Archana Shetty is breaking ground as the first international guest on the blog! While she lives halfway across the world from Ohio, we were able to build multiple degrees of connection through only 2 short video calls. Archana is a corporate leader, executive coach and mentor. She is also the host of the Inspirational Leadership Summit running virtually from November 5-7. You'll see that she's well on her way toward a goal of touching the lives of one million people.
About her journey: Archana grew up in Dombivili, Mumbai, India, as part of a working class family. Her parents moved from the south of India in search of better job opportunities. While her parents did everything possible to make ends meet, it was not a smooth sail.
Her family lived in a one bedroom rental apartment, attached to twelve other apartments, and together everyone shared what they had. Growing up collectively with 12 families made her embrace an abundance mindset. Together, they always had enough. This mindset has shaped her belief that there will always be enough when people share and work together.
While the families working together made collaborative living fun, growing up Archana also became highly aware of the inequality in the society in terms of wealth. Seeing the struggles of middle class families including her own, she carried an insecurity around money and the belief that the wealthy had an easier life. Reflecting on this now, she understands that money doesn't ensure safety or an easier life, but at the time, the desire for a better life motivated her to work hard develop an extremely strong work ethic.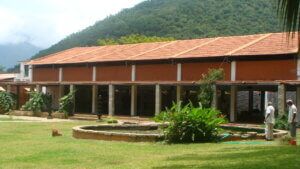 Through scholarships, Archana pursued her college degrees in Mumbai mostly at the encouragement of her parents. Archana started her career in India as an Ayurvedic (functional medicine) doctor. After she got married, she moved to Qatar in the Middle East. There wasn't an opportunity to practice this type of medicine after she moved, so she began all over again.
She spent time in Dubai and the United Kingdom to complete her MBA, PMP and multiple other leadership certifications. This led to her climb up the corporate ladder, which was interrupted by layoffs. Archana described her journey as a roller coaster ride, with many ups, downs and starting over many times.
Now, as one of the earliest graduates of the Daniel Goleman Emotional Intelligence Program and executive leadership coach and mentor, her goal is to empower high potential leaders to be inspirational and emotionally intelligent without burning out. She believes the ripple effect of building inspirational leaders is huge. Her big hairy goal is to make a difference in 1 million lives.
From a small town to making a difference in 1 million lives…
On memorable moments: As Archana explains, "A little girl from a small suburb traveled across three different continents and yet the most memorable and fulfilling experiences are from the small town where she was raised."
She reflected on the sense of community and collaboration she experienced while growing up. Because resources were limited, everyone shared. She recalls traveling by local trains, which were always very crowded. People took turns sitting. They shared their lunch boxes.
These experiences of collaboration and sharing have led to some of Archana's deeply held beliefs. She believes we can get the best out of each person by being open, using a lens of empathy, care and compassion. We often get busy mining for dirt, that we forget to mine for gold.
We often get busy mining for dirt, that we forget to mine for gold.
On the stories we tell ourselves: A result of Archana's professional, educational and personal journey, is her extraordinary level of emotional intelligence.
She reflects that we tell ourselves a million stories. A narrative that she carried around for a long time is that: "Rich people are happy. Rich people are successful." Once she obtained a certain level of success personally, she understood that this isn't always true. She said we have to constantly question our thoughts and beliefs.
Aside from stories about money and wealth, one of the small town narratives she grew up with was undermining our gifts. The thought of "Who am I to accomplish this? Who am I to know this? People like me don't do / know / achieve this." is a constant story she had to confront.
She said growing up in a small town also made her realize our tendency to "other" when we see people who are not like us. This comparison would put one group of people on one side of a discussion, and another group of people on the other side. Her advice to people facing this (and let's face it, we all have a version of Us vs. Them in some part of our lives), is to be adaptable and open to new people, cultures and ways of life. Not only is this a sign of love and respect for the "other", but it's also how we learn to work together and release judgement. Ultimately, living and leading from a place of togetherness will get us farther than a place of division.
Ultimately, living and leading from a place of togetherness will get us farther than a place of division.
From a small town to big success: Archana summarizes her secrets of success in 7 C's:
Character – Small town struggles have helped her build character traits of resilience and grit because she grew up witnessing empathy, care and compassion
Competency – She learned early on about the discipline of hard work and the importance of learning and development. She is a lifelong learner which has allowed her to be competent and stay on top of her game.
Collaboration – She's learned to be collaborative rather than competitive. She openly shares resources and doesn't keep ideas and knowledge to herself.
Creativity – Limited resources have taught her to get creative with what she has, including how to bring out the best in people.
Community – We cannot succeed alone. We need others.
Contentment – She has learned to look at the positive in every situation and be grateful and content with what she has.
Contribution – Her perspective has shifted to contribution, where she views her life and business as a force for the greater good.
On failure and setbacks: Failure or setbacks don't deter Archana too much because she has seen and experienced the rock bottom in both her professional and personal life. Though rock bottom is not a nice place to be, it has taught her a lot and made her resilient.
For example, when she finished high school, her #1 goal was to go to medical college. When she couldn't get in, she chose the path of functional medicine. This led to a thriving medical practice, but when her husband got a job in the Middle East, she had to start again. Fortunately, she was able to rely on her previous computer science education, something she pursued simply from an interest in what was going on in the world. All of a sudden, this interest was worthwhile and instilled the importance of adaptability and pivoting.
Bringing it all together: After exiting the medical field, working her way up, out, and across the corporate ladder, Archana saw the leadership gaps and felt that there had to be a better way to lead. That led her to the Daniel Goleman Emotional Intelligence Program in New York, and to her current venture coaching and mentoring entrepreneurs and leaders. She's combined her knowledge of Ayurveda medicine with her expertise in systems thinking to change her own habits, thinking and lifestyle and now helps other people do the same.
She believes leadership is a discipline of service, a responsibility towards the people in your own sphere of influence, and a calling to create a world where people are happy, healthy and fulfilled.
Advice to kids growing up in her hometown: Archana has solid advice for the next generation:
Don't let fear stop you. Channel that energy to do work that is meaningful for you and has an impact beyond yourself.
Question your beliefs. Your past is not your future. You have the power to create the future that you want.
Passion is good but what makes you truly happy is to live a life of purpose. Find a way to marry your genius with what the world needs.
Don't be afraid to ask for help. Have a strong support system
Start before you think you are ready. You will always have something that is missing. You don't have to check all of the boxes.
Believe in yourself. If you don't believe, others won't. Don't fake it, but know that you are good enough. Be you.
Small town spirit: Archana grew up seeing her mother as a very content, positive, happy person in spite of all the struggles they faced. She carries this state of mind always. To focus on the positive, be happy and grateful for all the things she is blessed to have.
"I am not what has happened to me. I am what I choose to become." Carl Jung
Archana may have started out in a small town, but now is building a global community. She has graciously agreed to extend the support of her community which is made up of a rich network of mentors, coaches, training resources and programs. The best place to start is with the Inspirational Leadership Summit, a FREE, virtual program taking place November 5-7.
Connect with Archana on her website, LinkedIn and be sure to sign up for the Inspirational Leadership Summit today.
Imagine if every kid living in a small town today thinking "I'm just a kid from a small town destined to be average" read this? Do your part and share it with someone who could use the motivation – no matter where in the world the live!
---
If you'd like to keep up with all of the Small Town Leadership happenings, subscribe to the email newsletter, sent every 2-3 weeks. Yes, count me in!